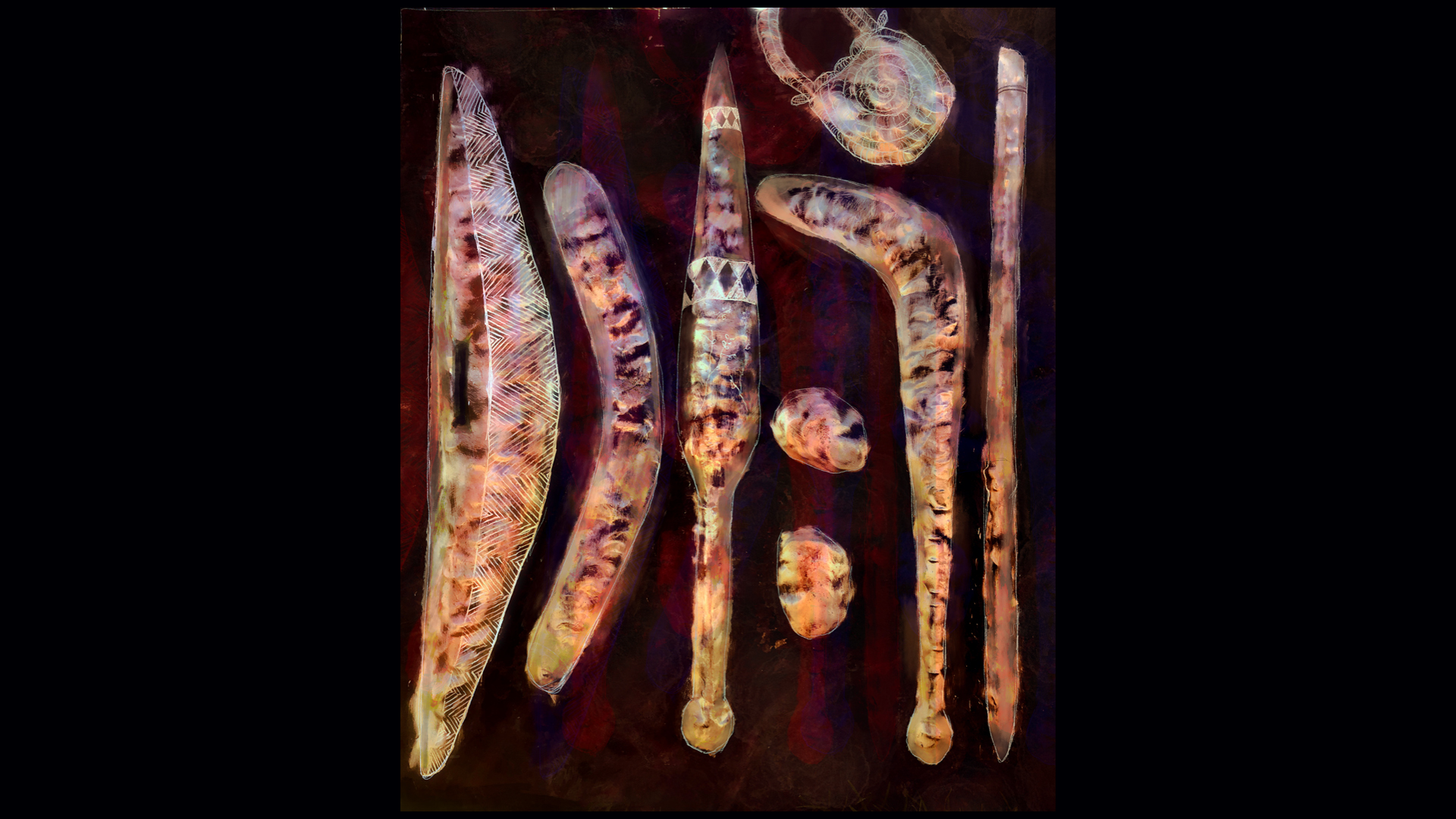 MOVING OBJECTS CBD POSTERS
Through posters the following artists have developed new work for MOVING OBJECTS, now showing across the city.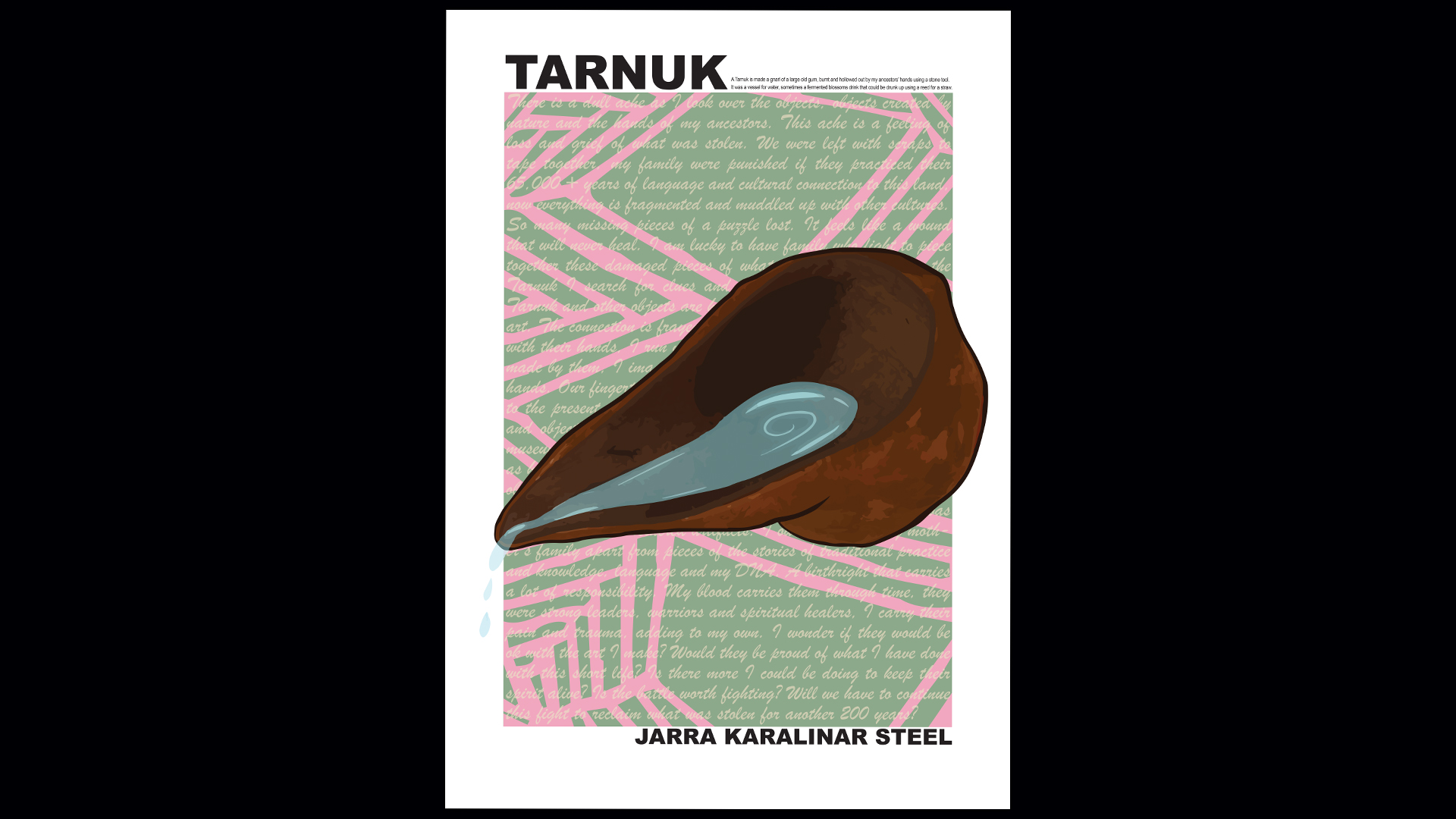 City Wide
Jarra Karalinar Steel – a multi-disciplinary artist known for her powerful emu engravings, poster art, large scale public installations, Digital/Augmented Reality Art, RAP artwork and commemorative signage. Jarra is of Boon Wurrung, Wemba Wemba, English and Scottish descent. Jarra completed her Master of Arts (Art in Public Space) from RMIT in 2020. Jarra is a passionate advocate/consultant for self-representation of Kulin and Victorian First Peoples art and culture and making sure it is kept alive and thriving.
ARTWORK
Tarnuk, 2021
The Tarnuk is made from a gnarl of a large old gum, burnt and hollowed out by my Ancestors' hands using a stone tool. It was a vessel for water, sometimes a fermented blossoms drink that could be drunk up using a reed for a straw. This poster is my attempt at capturing the spirit of this important object. As well as a stream of thoughts that hit me when I was able to touch an item my Ancestors hands made. And a reflection on the ongoing grief of dispossession of culture, knowledge, land, language and art, all of which lives on in the object in the collection, if only they could speak.
Coree Thorpe is a Gunnai, Yorta Yorta, Gunditjmara and Wurundjeri emerging artist. Growing up surrounded by art and activism, Coree has always had a passion for creativity, for standing strong in who you are and for ensuring that community and family are at the heart of everything. Coree has been an integral member of the Koorie Youth Will Shake Spears Melbourne-based dance group for over 20 years, but it was in the last 4 years that he has picked up a paintbrush again. In 2017, he entered a piece into the Koorie Art Show at the Koorie Heritage Trust, where he was encouraged to continue painting after winning the Lend Lease Reconciliation Award, for his portrait of his cousin Adam Briggs. In 2019, Coree presented his first solo exhibition, titled "Yenbenal Mawa Murrangurang - Ancestors Blood Always" which captured the history and living stories of Yorta Yorta country and people and marked the 80th anniversary of the Cummeragunja walk off. This exhibition was supported by Creative Victoria and Multicultural Arts Victoria.Over the last few years Coree has also delivered commission pieces to various community members and organisations. Coree uses different mediums that tie into Aboriginal culture including metal and different textures to bring life to his art whilst capturing his connection to country and ongoing responsibility to look after the land. Coree currently works for Dardi Munwurro (Strong Spirit), an Aboriginal organisation focused on breaking the cycle of family violence and intergenerational trauma in Aboriginal families and communities
Ngari Lynlee Thorpe is a ten year old Gunnai, Yorta Yorta, Gunditjmara and Wurundjeri emerging young female artist. Growing up surrounded by art and activism, Ngari is developing had a passion for creativity, for standing strong as a leader in her community. Ngari's achievements include winning the inaugural Children's Koori Heritage Trust art award in 2018 and again 2019. In 2021 Ngari has also been elected to represent her school in the SRC. Kyah Ngarra Thorpe is a seven year old Gunnai, Yorta Yorta, Gunditjmara and Wurundjeri emerging artist. Growing up surrounded by art and activism, Kyah has always had a passion for creativity through art, singing and writing songs about community. Kyah came second in the 2018 Children's Koori Heritage Trust Art Award and has performed songs she wrote on triple rrr radio about country and mob.
ARTWORK
Connections, 2021
The piece I've created with the help from my daughters is a piece that represents healing, and new learnings of myself, my family and my culture. Created to understand and respect where the journey of the artefacts and where our culture has come from but also CONNECT them to the evolving and ever changing nature of us as Aboriginal people of today.