Wed 26 MAY—Sun 6 JUNE
|
Across Chinatown
the hearts of the people are measured by the size of the land

Various artists curated by Olivia Koh
Chinatown's walls are brought to life by moving images exploring a shifting and multifaceted vision of Asian cultures.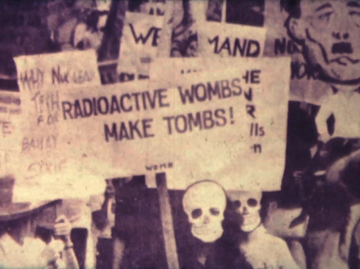 Moving to a new country requires choices. What parts of your culture do you take with you? What parts do you leave behind? These are the questions explored in the hearts of the people are measured by the size of the land—RISING's sprawling video art installation in Chinatown.
The seven collected works—brought together by moving image curator Olivia Koh—are seen as massive projections on the sides of iconic buildings, embedded in advertising screens and in RISING's Golden Square art car park.
The installation's title the hearts of the people are measured by the size of the land is a quote from Korean-American artist Theresa Hak Kyung Cha 차학경, whose mother was born in Manchuria, China, as a first-generation Korean exile. Like Cha, the presenting artists have a broad range of cultural associations and backgrounds, from Taiwan, The Philippines, China, Malaysia, Hong Kong, Australia and the US. When moving countries, these artists have settled on First Peoples' land.
Each artist's work is an exploration of how culture changes as it moves around the world. The breadth of diverse styles, practices and influences present a multifaceted, fluid expression of identity and culture.
Artists
Patty Chang, Invocation for a Wandering Lake, 2016
On the shores of newfoundland, Chang washes a dead beached whale's body. Invocation for a Wandering Lake is part of the Golden Square car park exhibition. Information and tickets here.
A blue truck, resembling Thomas the Tank Engine, travels through Beijing's changing cityscape.
Caroline Garcia, Imperial Reminiscence, 2018
Garcia disrupts some of the most memorable dance scenes ever to be captured on film to critique the history of whitewashing in Hollywood cinema.
Chinese Cinema (Midcity Centre): 27 May and 4 June 8PM, 8.30PM and 9PM

Wheeler Centre: 3 June, 6PM, 6.30PM and 7PM

Video approximately 10 minutes long, with soundtrack
Tristan Jalleh, Transmute Ha Noi, 2021
Objects from antiquity, alongside contemporary objects from Asian street markets, disintegrate and recombine, in an examination of their cultural, symbolic and material value.
Nikki Lam, Anchor and A Loose Thread — 錨,和懸絲, 2019
In collaboration with dancers Tso Han Jie and Mimi Chang—and using objects, historical sites and poetry—Lam examines memory colonialism and the body.
Rox Lee (Roque Federizon Lee), Juan Gapang (Johnny Crawl), 1987
A figure crawls on the street of Manila in a film made a year after the Edsa Revolution—the revolution that ended the 20-year presidency of Ferdinand Marcos.
Siying Zhou, TaiChi Practice, 2019
In Robe, South Australia, on the land of the Boonadik nation, Zhou's father performs a Taichi sword exercise—using a stubby holder-wrapped machete.
IMAGE CREDITS: COURTESY OF THE ARTISTS